Transportation
Bicycle Rules
*After April 1, 2018, Kyoto City and Prefecture oblige all cyclists to enroll in Bicycle Insurance.
Rules for riding bicycles
・Using mobile phones or headphones/earphones while riding a bicycle is strictly prohibited.*Kyoto Prefectural Regulations prohibits those acts. If anyone violates this rule, the person shall be fined or punished.
・As a rule, cyclists must keep the very left on the road. If a street has a sign "Cyclists allowed on a Sidewalk," you can ride a bicycle on the sidewalk. When you cycle on a sidewalk, please keep the road side and ride slowly. You must also be careful not to disturb pedestrians, and if necessary, you must temporarily stop riding in order to let pedestrians proceed. (Those who violate this rule are subject to punishment.) If available, cyclists can ride on a "cyclists' zone" designated on the left side of a road.
・If a crossing has a "Crossing for Cyclists," you need to cross on the zone.
・You must walk your bicycle on sidewalks especially where crowded.
・When you intend to turn right at the crossing with no traffic lights, you must keep the far left side of the street, first cross to the other side, and then turn right slowly after confirming the flow of traffic (Those who violate this rule are subject to punishment).
・Do not turn to right in the same way the automobiles do at intersections.
・You must switch on your headlight when riding at night. (Those who violate this rule are subject to punishment).
・Both drunk riding and riding a bicycle with two persons are prohibited. (Those who violate this rule are subject to punishment).
You can ride a bicycle on sidewalks with this sign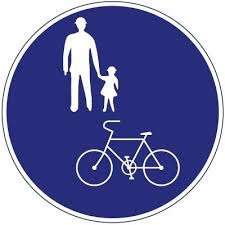 Rules for Parking Bicycles
Do not leave your bicycle on streets or sidewalks, which may block traffic or disturb pedestrians. Please park your bicycle in designated areas. You can search for bicycle parking on the Kyoto City Cycle Website. When you park your bicycle, please make sure that you lock it.

Removal of bicycles
*Kyoto City Ordinances prohibit the parking of bicycles on the street, especially in front of stations or other congested areas, and remove illegally parked bicycles to the other area.
*The city will remove bicycles parked in any area of Kyoto City marked with a no parking sign (See below).
Bicycle, etc. Removal Enforcement Area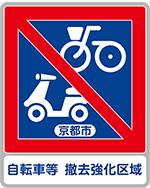 If your bicycle is removed?
・Removed bicycles will be kept at the bicycle impound lot for 4 weeks.
・If you do not retrieve your bicycle within 4 weeks, it will be disposed of.
・If your bike is missing, first check to see if there are any signs nearby or notifications placed on the pavement. These will indicate which impound lot your bicycle was taken to.
How to retrieve your bicycle
Look for
a signboard or poster near the spot
where you left your bicycle to find out which impound lot your bicycle was taken to. To retrieve your bicycle, you need
your bicycle key, a form of identification, and money for the handling charge of \2,300.
Risk Management for Bicycle Accidents
You must enroll in bicycle insurance to provide a means to provide financial coverage for injuries to yourself and others, etc. in the case of an accident.
See the following website for more information:
Bicycle Policy Promotion Office
 TEL:075-222-3565
Bicycle Registry (Jitensha Bohan Toroku)
・Bicycle Registry is helpful to identify the owner of a stolen bicycle and return the removed ones left at stations.
・Bicycle Registry is compulsory by the law. When you buy a bicycle, register your ownership at the bicycle shop. It is valid for ten years and the fee costs \600. (The fee is changed from \510 from May 1, 2020.)
・If you change your address, get a used bicycle that someone else has registered, or you have bought a new bicycle through internet, you must change the registration or register your bicycle at a bicycle shop.
・When your bicycle is stolen, visit the nearest police box or police station to file a claim, taking your Bicycle Registry Receipt with you.
Kyoto Prefectural Council for Bicycle Registry Promotion TEL:075-451-9111
Cars and Motorbikes
・Cars and motorbikes must run on the left side of the road. You must fasten your seatbelt while driving in a car and wear a helmet when riding on a motorbike.
・Children under 6 years old must use a child seat in the car.
・The law prohibits driving a motor vehicle while talking or texting on mobile devices, as well as driving under the influence of alcohol (Those who violate this law are subject to punishment).
・The law requires privately owned cars to be inspected once every one to three years. Car owners must have an accident insurance policy as a protective measure against accidents (fixed amount applies).
International Driver's License
If you obtained the international driver's license before coming to Japan, you are able to use it in Japan without making any further applications. However, the license is valid only for one year after your arrival in Japan, regardless of the expiration date described on your license.
・The international driver's licenses issued in countries that have not signed the "Convention on Road Traffic" (Geneva Convention) are not valid in Japan.
・If you have registered a residence in Japan and obtained an International Driver's License in another country, you cannot use it in Japan unless you stay in the country for more than 3 months.
・In order to drive a scooter, you need "A" in the section of "the vehicle(s) you are able to drive" on the international driver's license.
How to Convert a Driver's License from Another Country into Japanese Driver's License
If you have brought your national driver's license to Japan, you may convert it to a Japanese one at the driver's license examination center(Unten Menkyo Shikenjo).
*If you have a valid driver's license issued either in Switzerland, Germany, France, Belgium, Taiwan, Monaco, Estonia and have a Japanese translation issued by your Consulate, Embassy or JAF, you may use it for one year after your arrival in Japan or until the indicated valid date.
For further information, inquire at:
Driver's License Section of Kyoto Prefectural Police Headquarters (Kyoto-fu Keisatsu Honbu Unten Menkyo Shiken-ka)
 TEL:075-631-5181, Ext. 222 or 223, Mon. - Fri. 16:00 - 17:00 by appointment only
Conditions
① Your driver's license must be valid (Your license has not expired).
② A document to prove that you have stayed more than 3 months in the country you obtained the driver's license.
③ You live within Kyoto Prefecture.
Items Required to Obtain Japanese Driver's License
① Your driver's license (Your license has not expired)
② Japanese translation of your license
 Please ask your embassy, consulates or JAF for translation.
 JAF TEL:682-6000
③ Your passport
④ Your Resident Card
⑤ 1 portrait photograph (3x2.4cm)
⑥ Your Certificate of Residence
⑦ Handling charge
If you have a Japanese Driver's License?
・The validity date of Japanese driver's license is written on the license card.
・Renewal of your license must be completed 1 month prior or 1 month after your birthday. Submit your driver's license and a renewal fee of 3,000- 3,850 yen. (The fee varies according to your record of violations).
How to obtain a driver's license (in the case of Kyoto Prefecture)
In principle, the knowledge test and driving skills test are conducted in Japanese. However, English, Chinese, and Tagalog versions are available for the knowledge test. (Only English version is available for scooter driving skills test.)
In order to pass the test, you must study the Japanese traffic rules and regulations.
In Japan, driver's licenses for automobiles are issued to those who are 18 years old and above. Driver's licenses for motorcycle are issued to those who are 16 years old and above (For motorcycles 400cc and above, you must be 18 or older). If you are younger than the above ages, a driver's license will not be issued.
If you would like to take the knowledge test in English, Chinese, or Tagalog, please ask the person in charge.
Driver's license Section of Kyoto Prefectural Police Headquarters (Kyoto-fu Keisatsu Honbu Unten Menkyo Shiken-ka) TEL:075-631-5181
647 Hazukashi-Furukawa-cho, Fushimi-ku, Kyoto
Registration for the test: Mon. - Fri. 8:30 - 9:15
Access to Kansai International Airport
How to Get to Kansai International Airport
Type of transportation
Starting points
Required time
JR limited express "Haruka"
JR Kyoto Station
75 min.
JR Kanku Rapid Service
JR Osaka Station, JR Kyobashi Station
Approx. 2 hours
Kansai Airport Limousine Bus
Reservation center TEL:075-682-4400
JR Kyoto Station Hachijo-guchi, JR Nijo station, Sanjo-Keihan, Shijo-Omiya, Demachiyamagi
Approx. 105 minutes
Limousine taxi
MK Skygate shuttle service TEL:075-778-5489
Yasaka Airport shuttle service TEL:075-803-4800
For Flight information
Limousine Bus Center TEL:072-461-1374 Open 7:00 - 21:00
Kansai Airport Information Center TEL:072-455-2500 Open 24 hours
Public Transportation (Subways, trains, busses)
Subway
The subway is managed by Kyoto City. There are two lines; Karasuma Line & Tozai Line. The Karasuma Line runs through the city from the north to the south, between Takeda Station and Kokusaikaikan Station, and the Tozai Line runs from the east to the west between Rokujizo Station to Uzumasa Tenjingawa Station. The fare varies between \220 and \360, depending on your travel distance. The subway connects with some private railway lines. If you travel beyond a station your ticket covers, you must pay the adjustment amount to your fare at the fare adjustment machine or pay station staff. Smoking is prohibited on trains and at stations.
JR (Japan Railways)
JR is the largest railway company in Japan, and covers the whole country. For using limited express service, Green Car, sleeping car or Shinkansen, you must pay extra fees.
JR West Telephone Reservation Service TEL:0088-24-5489/8:00 - 22:00
JR Odekekake Net (JR West)*Japanese
Other trains
Destination
Train companies
Telephone
Osaka
Hankyu Railway (Kyoto Line)
45 mins. from Kyoto Kawaramachi Sta. to Umeda Sta. by the Rapid Limited Express train (No extra charge for the limited express service)
Kyoto Kawaramachi Station
075-211-1052
Keihan Electric Railway
56 mins. from Demachiyanagi Sta. to Yodoyabashi Sta. by the limited express train (No extra charge for the limited express service)
Sanjo Station
075-561-0033
Nara/Ise
Kintetsu Railway (Kinki Nihon Tetsudo)
Kintetsu Kyoto Station is located in the south part of JR Kyoto Station premises. (Extra charge is necessary for using the limited express service)
Kyoto Station
075-691-2560
Arashiyama
Keifuku Electric Railroad
075-801-2511
Hankyu Railways
0570-089-500
Kurama/Yase
Eizan Electric Raiway (Eizan Dentetsu)
075-781-5121
Buses
(1) City Buses
City bus service is managed by the City of Kyoto. The service allows access to most of the sightseeing spots in Kyoto and the color of the buses is green). Use the rear door to enter the bus. Press the nearest button to inform the driver that you will get off at the next stop. Exit at the front of the bus, and put the exact fare or a ticket into the fare box located next to the driver. When you use an IC card, touch on the card reader located at the entrance when you get on the bus and touch another reader placed by the fare box with your card. For other types of card, put your card through the card reader when you get off. (Some buses ask passengers to pay the fare when they get on board from the front door and get off from the rear door.)
Fares
・Within the flat fare zone, a flat fare of 230 yen is charged.
・Outside of the flat fare zone, bus fares vary according to the distance. In these areas, take a numbered ticket from the machine at the rear door when you get on the bus. Find your fare on the fare table located above the front windshield of the bus and then put the exact fare and the distance number ticket into the fare box. When you use an IC card, touch on the card reader near the fare box with your card at the start and the end of your journey.
・Bus fare for children over 6 under 12 years old is half of the adult fare. The fare for children under 6 years old who are accompanied by an adult (father, mother, guardian etc.) is free of charge.
・If you do not have any change, please obtain it in advance by using the changing machine located beside the driver.
Route Maps
City bus service is operated until around 10:00 p.m.
*English, Chinese, and Korean Bus Maps are available at City Bus Information Centers, subway stations and kokoka.
(2) Other Bus Companies
| Bus companies | Telephone |
| --- | --- |
| Kyoto Bus (for northern Kyoto, Sagano/Arashiyama area) | 075-871-7521 |
| Keihan Bus (for eastern and southern Kyoto, Shiga Pref.) | 075-682-2310 |
| JR Bus (for northern Kyoto) | 075-672-2851 |
| Kintetsu Bus (for southern Kyoto) | 075-612-2060 |
| Hankyu Bus (for Muko City) | 075-921-0160 |
Discount Tickets
Some discount tickets are available for trains and buses. For further information, ask the Kyoto City Transportation Bureau and other train companies.
| Type | Contents of service |
| --- | --- |
| Coupon tickets (kaisuken) | Book of tickets for use within a fixed area, each ticket is cheaper than the normal price. |
| Commuter pass (teikiken) | Unlimited use within a fixed period and along a fixed route. |
| Student discount pass and tickets (gakusei waribiki) | You can buy a student discount pass by submitting a student discount certificate issued from your school. When you travel a distance of more than 100 km by JR, you can also use a student discount service by submitting the student discount certificate. |
| One day pass (ichinichi joshaken) | Unlimited rides for one day |
| Two day pass (futsuka joshaken) | Unlimited rides for two days |
| Traffica Kyo card | This card is accepted by at all City Subway Stations and on all City Busses. You can get the card at subway ticket vending machines and at bus ticket offices. Insert this card directly into subway ticket gates. |
IC Cards for Convenient Travel
Instead of purchasing train or bus tickets, you can use IC cards, such as ICOCA and PiTaPa, for travelling with most railways and bus companies nationwide.
Taxis
Taxies have three sizes: small, medium and large. The fares vary according on the size of the taxi. The name of the taxi company is displayed on the lamp on the roof of the taxi. In Japan, opening and closing of the rear doors of taxies are mechanically operated by the driver.
How to Catch a Taxi.
・Raise your hand to passing taxis to indicate that you would like a ride. Taxis have a display lamp indicating occupancy; an empty cab will stop for you.
・It is easier to catch a taxi at a taxi stand near stations and on main streets.
・You can call a taxi company to request one sent directly to your location.
Taxi Fare
・The fare is indicated on the meter located on the panel to the lower left of the driver. Check when you get into a taxi.
・Night fares, between 11:00pm and 5:00am, are higher than the normal fare, due to a late-night surcharge. The fare system varies from company to company.