Status of Residence
Status of Residence
* To find out what activities you are permitted to conduct in Japan and to find out how long you are permitted to stay in Japan, check your passport or if you have already received your Residence Card, under status of residence and period of stay
* If you entered Japan on a short-term tourist visa for tourism or another purpose, you are not permitted to work in Japan.
* If you are a student or your visa status does not allow you to work in Japan and would like to get a part-time job, you should apply for Permission to Engage in an Activity other than that Permitted under the Status of Residence Previously Granted (Shikakugai Katsudou Kyoka).
* If you want to extend or renew the period of your stay, you must apply within the three-month period before the expiration date of your period of stay.
* Normally, if you wish to temporarily leave Japan and return under the same resident status you must have a re-entry permit.
However, you do not need to obtain a re-entry permit if you plan to return to Japan within 1 year, are carrying a valid passport and your Residence Card (valid re-entry within 1 year of departure or before the expiration of your period of stay),
but you must complete the procedures under the Special Re-entry Permission System. When you are leaving Japan, you must tell an immigration officer about your re-entry plans and complete all indicated procedures to leave Japan.
(Special Note) If you wish to re-enter Japan, please check box 1 indicating "Departure with Special Re-entry Permission" on your re-entry and departure Embarkation and Disembarkation Card for Re-entrants (ED card).
①Date of landing in Japan ②Period of stay valid until ③Status of residence ④Period of stay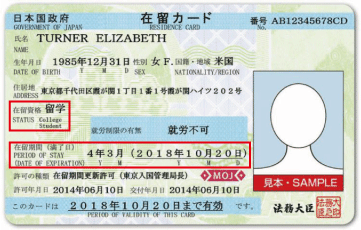 *
Immigration Bureau of Japan
Kyoto Branch Office of Osaka Regional Immigration Bureau
Tel:075-752-5997
4F Kyoto Daini Chiho Godo Chosha
34-12 Marutamachi Kawabata Higashi-iru, Sakyo-ku, Kyoto
Office hours: Monday to Friday 9:00 to 12:00, 13:00 to 16:00
Access: Keihan Railway, 7 min. walk from Jingu-Marutamachi Station
Kyoto City Bus, 1-5 min. walk from Kumano-Jinja-mae stop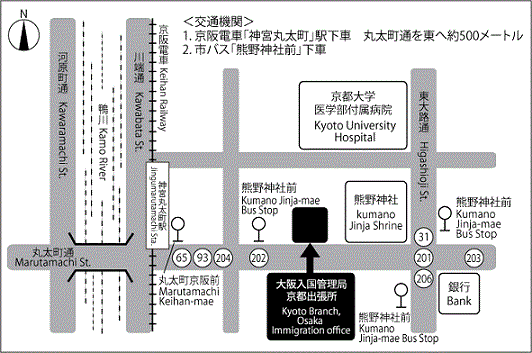 Immigration Information Center in Osaka (Gaikokujin Zairyu Sogo Information Center - Osaka)
Tel: 075-752-5997
IP, PHS: 03-5796-7112
International callers: 81-3-5796-7112
Office hours: Monday to Friday 8:30 to 17:15
Available languages: English, Chinese, Korean, Portuguese, Spanish